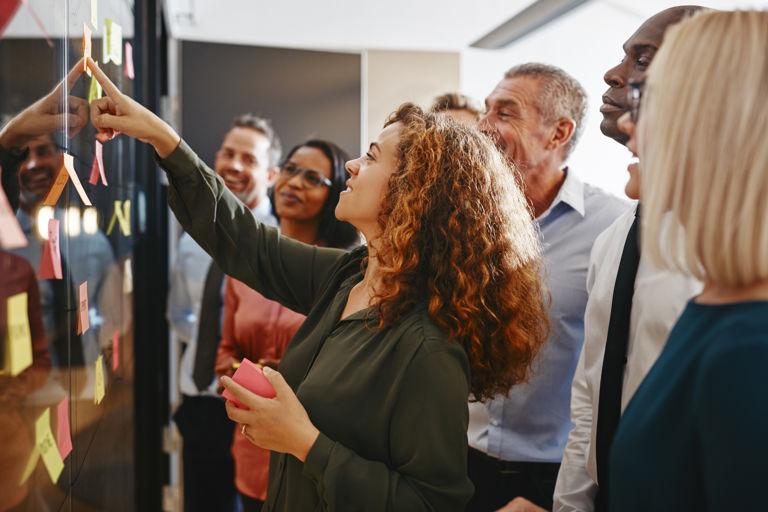 How the ecological transformation succeeds
Employees play a key role in the ecological transformation of companies. We will make you and your colleagues fit to take on this important task.
Global greenhouse gas emissions continue to rise. Global warming threatens to reach the critical threshold of 1.5 degrees in the near future. Species extinction is accelerating.
To prevent the collapse of the environment and climate, enormous efforts are needed - especially from wealthy industrialised countries like Switzerland. CO2 emissions must be reduced quickly, resources conserved and habitats protected. For many companies, this means: they have to renew their business model from the ground up.
«Today, companies can no longer afford to be passive when it comes to climate and environmental protection. Otherwise they won't be around in a few years.»
Key role of employees
You have a key role to play in this transformation. For three reasons:
You can influence the public perception of a company and make the environment and climate an issue in the company.
You can initiate important changes.
You can make a significant contribution to the implementation of environmental and climate protection measures in the company.
Public perception
A company's positioning and image have become increasingly important. Not all companies care about ecology. Employees can take advantage of this: Thanks to social media, you are able to draw attention to grievances. This kind of commitment, known as «employee activism», is currently attracting a lot of attention in the Anglo-Saxon world. Large companies like Google and Amazon have moved towards more climate protection as a result.
Changing concrete things
As an employee, you are familiar with the production processes and workflows in the company. You know the problems and also the potential for improvement. This enables you to propose concrete changes along the entire value chain, from the procurement of raw materials to processing and logistics. Solution-oriented and committed. When employees do this in many places, it has a great leverage effect.
Supporting the management
It also depends on the employees whether decisions made by the management have an impact on environmental and climate protection. It is important that you and your colleagues are behind the strategic reorientation and are willing to promote new projects. This is the only way to achieve the necessary improvements quickly enough. To achieve ambitious environmental goals, the grassroots must be mobilised.
The problem recognised
The time to get involved has never been better. Because numerous leaders have now recognised the scope of the climate and biodiversity crisis. A good example is the CEO4Climate initiative: More than 400 leaders of the Swiss economy are working together for effective climate protection. The initiative was launched by the swisscleantech business association. As a member of the association, we support the commitment to a climate-friendly economy.
«Today, companies can no longer afford to be passive.»
Advantage in recruitment
Companies that take environmental and climate protection seriously find it easier to find qualified staff. A study by the consulting firm Deloitte makes this clear. For half of the respondents, an employer's image depends on its environmental awareness. The majority pays attention to avoiding emissions at work. And one fifth explicitly make their choice of employer dependent on its climate footprint.
Overcoming fears
Not everyone welcomes change. Those who fear that the company could go under if it adopts a consistent ecological orientation can delay projects or even bring them to a standstill. If your colleagues are opposed, it will be difficult to get things moving.
In such situations you can help to overcome blockades. You can bring others on board by addressing risks and opportunities and providing credible information.
We support you
We are committed to helping you realise your potential for the benefit of ecological transformations. «We aim to raise awareness among members on environmental and climate issues,» says Stefan Studer. «We empower them to get constructively involved. In companies that don't move enough, they are allowed to speak up. Today, companies can no longer afford to be passive, otherwise they won't exist in a few years.»
Employee representatives play an important role in this. They are in daily contact with you and your team and can win you over for ideas and projects.
Direct opportunities to influence
You can influence the ecological orientation of your employer at various levels.
Through the Participation Act: You and employee representatives have the right to be informed about all collective matters. This includes the ecological orientation.
This right can be extended through agreements with the employer.
We advocate that employee representatives be granted the right in collective agreements to be involved in an advisory capacity in environmental policy. This should be done before decisions are taken.
Sustainable at all levels
If you take responsibility for this transformation together with your colleagues, everyone wins. Companies can reduce their ecological footprint. In turn, they increase their competitiveness. And you have the certainty of improving your job security and giving more meaning to your work.