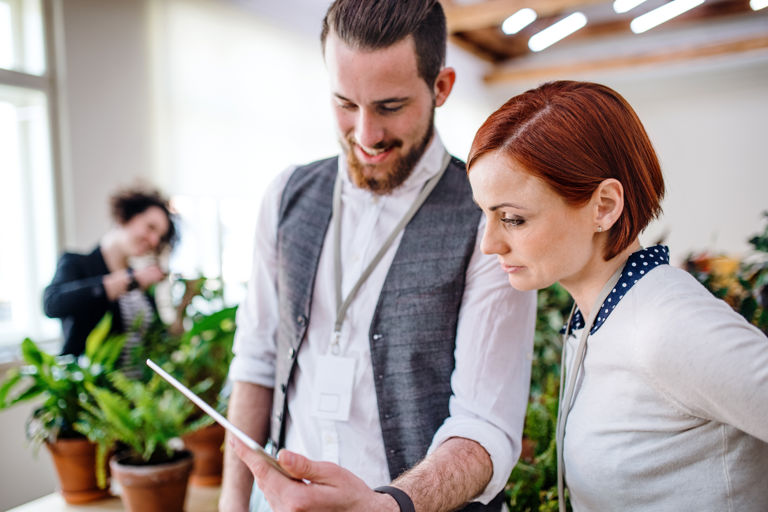 How to bring climate protection into your company
As an employee, you have the knowledge and the ideas to advance the ecological transformation. Become a sustainability influencer and anchor environmental and climate protection in your company.
Profound changes are needed to prevent the impending climate collapse. Innovative solutions by companies and the right political framework conditions are not enough. For companies to move, they need the commitment and pressure of their employees. So also from you and your colleagues.
This growing influence is receiving a lot of attention in the Anglo-Saxon world under the term «employee activism». And it is having an effect: large companies such as Google and Amazon have set themselves more ambitious climate targets in response to criticism from their employees.
Pioneer in Switzerland
We at Angestellte Schweiz took up the issue early on. We launched the first training courses at the beginning of 2020, together with the swisscleantech business association. In this way, we promote dialogue and participation on the topic of sustainability. The training will enable you and your colleagues to influence the ecological orientation of your company.
«We sensitise the employees. They should exert pressure if their own company does too little for climate protection,» says Stefan Studer, Managing Director of Angestellte Schweiz. «We support them in getting constructively involved - with concrete suggestions and realisable projects. Whether it's saving energy or conserving raw materials.»
Christian Zeyer, Managing Director of swisscleantech, also knows the importance of employees. «They are important partners when it comes to making the economy climate-compatible. That is why the cooperation with Angestellte Schweiz is so important for us. In this way we can reach the grassroots in the companies and together motivate even more companies for consistent climate protection.»
«Employees should put pressure on their own company if it is doing too little to protect the climate.»
Angestellte Schweiz is looking for influencers for sustainability
The trainings have now turned into a new project: Employees Switzerland trains sustainability influencers. These are able to convince their colleagues of the importance and opportunities of environmental and climate protection measures. Countless studies have shown that an ecological course has a positive effect on business success.
The concept of sustainability influencers may seem unusual. But there is a comparable function in companies: workplace safety officers.
Are you interested? Then get in touch with the employee representation in your company. Or contact us directly.
Initiating conversations and projects
«It is not enough for the population to demonstrate for the climate or for climate activists to stick themselves on the streets. It needs commitment in the companies,» says Stefan Studer. He is convinced that employees can make a big difference by initiating conversations. In team meetings as well as in the coffee break.
Other countries have also recognised the potential. In Germany and Great Britain, for example, Planetgroups supports employees in promoting climate protection in their companies. The non-profit organisation wants to inspire people to take responsibility in their own workplaces and put companies on a sustainable course. Just like we do in Switzerland.
Companies are aware of the influence of employees
Companies are now aware of how great the influence of employees is. Employee activism" is being discussed intensively at business schools in the USA. Detailed checklists summarise how companies can prepare for the growing involvement of their employees and what they must avoid. Three mistakes stand out:
deny that there is a problem
believing that companies can be apolitical
looking for a way out in quick, easy-to-implement solutions.
«It needs commitment in the companies.»
The ecological transformation is a process that takes time and energy. Ignoring the demands of employees on this path is no longer an option. Add to this the fact that inactivity on the topic of climate protection also arouses criticism from investors and other stakeholders.
Meaningful engagement
This opens up new opportunities for you and your colleagues. You can set important impulses and initiate necessary changes in the company. And you can do it effectively: you know exactly where the hotspots are in your company when it comes to environmental and climate protection. The environment and the climate benefit, and your work becomes even more meaningful.