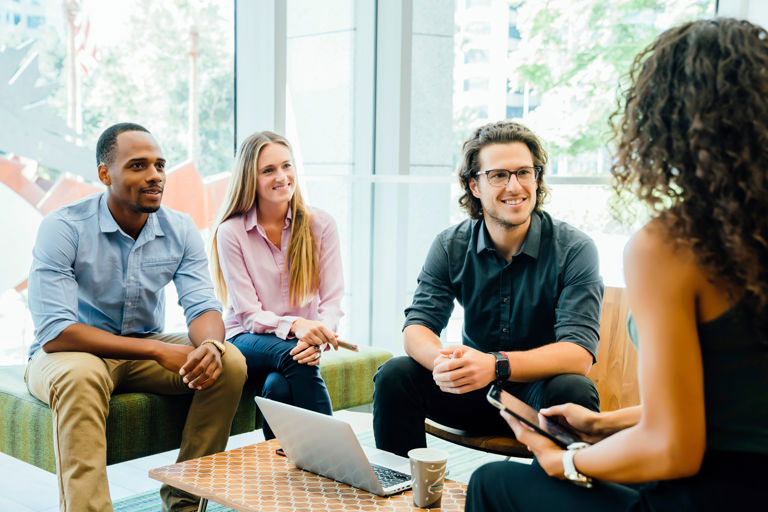 What companies do for millennials
How we work where and why - our relationship to work has fundamentally changed. Especially in times of a shortage of skilled workers, this means a rethink for companies. Two Swiss companies tell how they deal with the paradigm shift.
Young workers want a meaningful job rather than a secure job. Women and men of generations Y and Z want to work flexibly and remotely. If this is not the case, they will look for a new job.
These are the key findings of the «Gen Z and Millennial Survey 2023» by Deloitte. More than 22,000 people in 44 countries were surveyed for the study.
Meaning and sustainability are important
Companies in Switzerland are also noticing these changes in attitudes to work. The relationship to work has changed, confirms Thomas Frick, Head of HR at Siemens Switzerland. In the past, people used to adapt to their employer, but today employees dare to represent their personal interests more. «For young employees, it is very important that they have an employer they can stand behind. Sustainability is also an important issue,» says Thomas Frick.
But he puts it into perspective: «Younger people have always been quicker and easier to quit than older people. They want to travel, further their education, get to know something new.» Today they can do that with the knowledge in the background that they will quickly find a new job due to the current market situation.
The most important findings from the study
Sense of identity: Millennials and Generation Z do not define themselves through their work alone. Even more important in forming their sense of identity are friends and family.
Loyalty to the employer: For Generation Z, the time horizon over which they want to stay with their current employer is shorter than for Millennials. Almost half of Generation Z respondents plan to leave their job in the next two years, while a third of Millennials plan to stay for more than five years.
Reasons for changing employers: In Switzerland, the main reason for both generations to leave their last job was that the work was not fulfilling or meaningful. A salary that was too low compared to the European average was also an important reason for employees' decision to quit in Switzerland.
Flexible working: Millennials see more advantages in being able to work outside the office. Generation Z, on the other hand, prefers to work on-site at the company. Nevertheless, both generations would like to be able to choose where they work.
Return to the office: 45 per cent of Swiss Generation Z who currently work hybrid or completely outside the office would look for a new job if they had to be physically present in the office full-time again.
Work-life balance: Both Millennials and Generation Z value work-life balance. Each un
Adapting work to life
Thomas Frick attaches importance to picking up «all generations». That means: «We focus on the new age, not on the generations.» Because, as he has found, older employees also appreciate flat hierarchies and a say in their areas of work. To keep up with the trend of the times, Siemens Switzerland offers all jobs on a part-time basis, including management positions. Two to three days of home office are also possible, depending on the job profile. As proven by the study, Thomas Frick also experiences that employees want to adapt the place of work to their life situation.
Not every wish is possible
Flexible working hours and models as well as home office are not possible in all professions and work situations. One example is the production site of the chemical company dsm-firmenich in Valais.
Therefore, other ways to meet the needs of Generation Y and Z were sought: For employees who do not work in shifts, there is the possibility of part-time work, unpaid leave and freely selectable working hours between 6 am and 10 pm. «A clear must for us to remain attractive,» says Eveline Walter, HR employee at dsm-firmenich.
Who is part of which generation?
Generation Y: those born between 1980 and 1996
Generation Z or Millennials: born between 1996 and 2010
Younger employees differ from their older colleagues in their desire for a sense of purpose and individuality in the workplace. These different priorities can also lead to conflicts, as Eveline Walter confirms. «Older supervisors have the expectation that younger employees stay at the plant for a very long time,» she says. «But what is the expectation for themselves must not be the expectation for younger employees.»
Listening to employees
In times of skills shortages, it is imperative that companies listen to these changing needs of their employees. The authors of the study have clear recommendations for action: For example, companies should respond to the wishes for flexibility in the working model and offer tangible development opportunities.
«The company's purpose and values must be clear and at the centre of the company's actions if you want to attract talented employees,» they write in the recommendations for action.