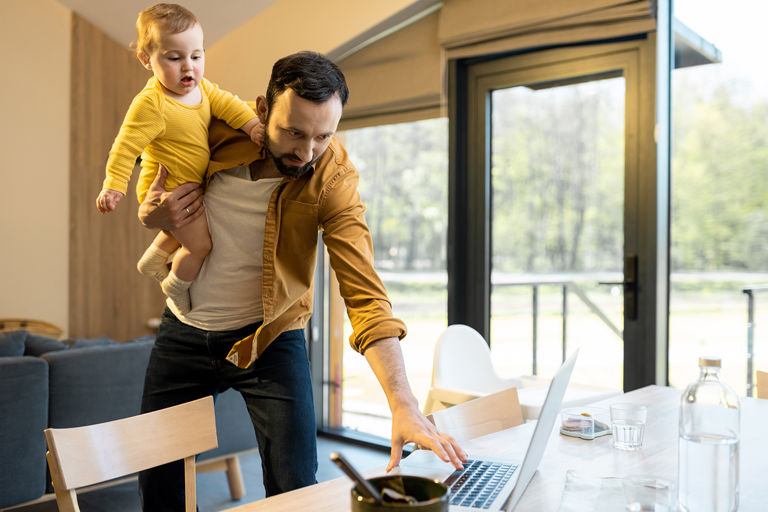 When working more isn't worth it
For many couples with young children, a second income or a higher workload is not attractive: the cost of childcare is a burden on the family budget. This is harmful for the national economy.
According to the Federal Statistical Office, one third of children under the age of 13 are partially cared for by their grandparents. Those who are lucky enough to entrust their children to them escape a major financial burden. The cost of childcare in Switzerland is exceptionally high.
In concrete terms, this means that a second income or a higher workload leads to additional costs for childcare. Household income hardly changes - or, in the worst case, even decreases.
Switzerland performs poorly
«Switzerland is a developing country when it comes to financing childcare,» Katrin Bertschy notes in an interview with elleXX magazine. She is a member of the GLP National Council and co-president of the women's umbrella organization Alliance F. She is bothered by the fact that a patriarchal family model from the post-war period is still being supported. The resulting framework conditions would force women to give up their jobs or at least their desired workload.
According to a report by the Swiss Federal Commission for Family Affairs (EKFF), the public sector in Switzerland spends less money on daycare centers and day families than any other country in the OECD, specifically a mere 0.4 percent of gross domestic product (GDP). Denmark, the front-runner, spends five times more on early childhood care: 2 percent of GDP.
In comparison, Switzerland also pays the lowest share of childcare costs: 40 percent on average; depending on the canton, it can be substantially less. The other OECD countries provide 65 to 98 percent.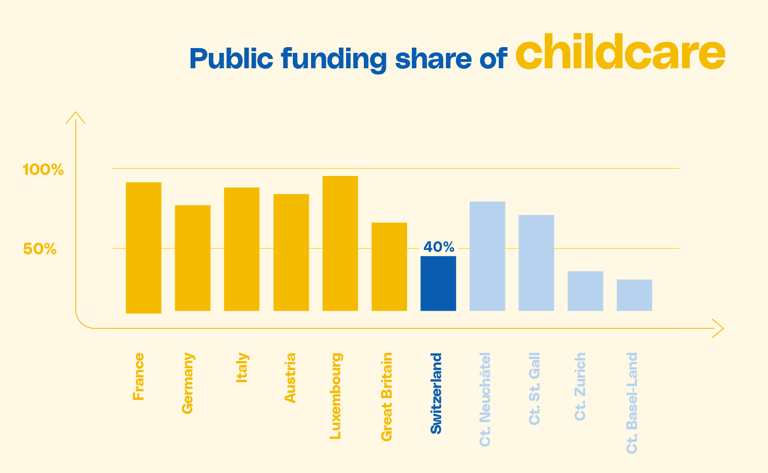 A calculation with many variables
It is not only the cantonal differences that complicate matters. The financing shares also vary greatly from municipality to municipality.
The FCWI examined the rate for daycare centers in 13 municipalities:
- The lowest rate is between 4 and 42 francs.
- The highest rate is between 42 and 128 francs.
The same is true for tax deductions:
- A family in Valais can claim 3000 francs per year and child.
- In the cantons of St. Gallen and Geneva, a deduction of 25'000 francs applies.
- In the canton of Uri, the full amount of childcare is deductible.
These figures have a big impact on a family's budget. Depending on where they live, a couple with two children spends between 3 and 15 percent of their household budget on three days of care per week. For a single parent, the percentage can be as high as 20 percent.
Furthermore, childcare facility rates are usually dependent on the parents' income. Even small changes in income can have a major impact, and these place an above-average burden on middle-class families in particular.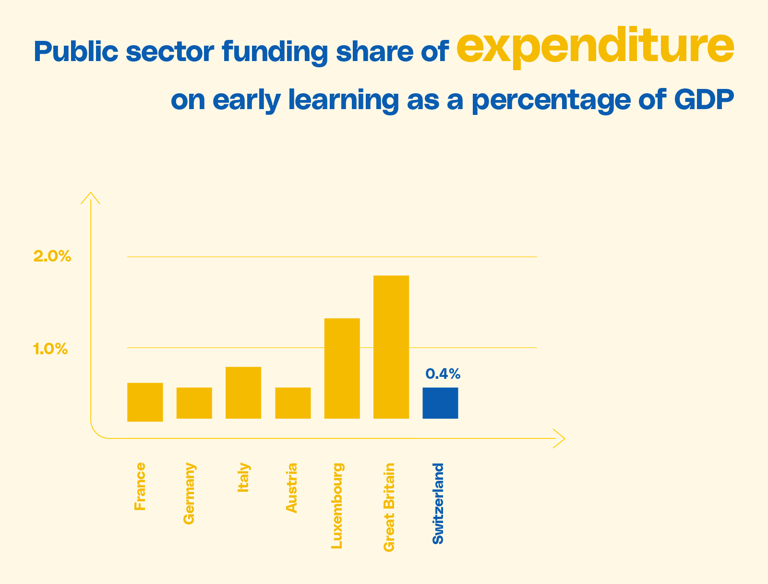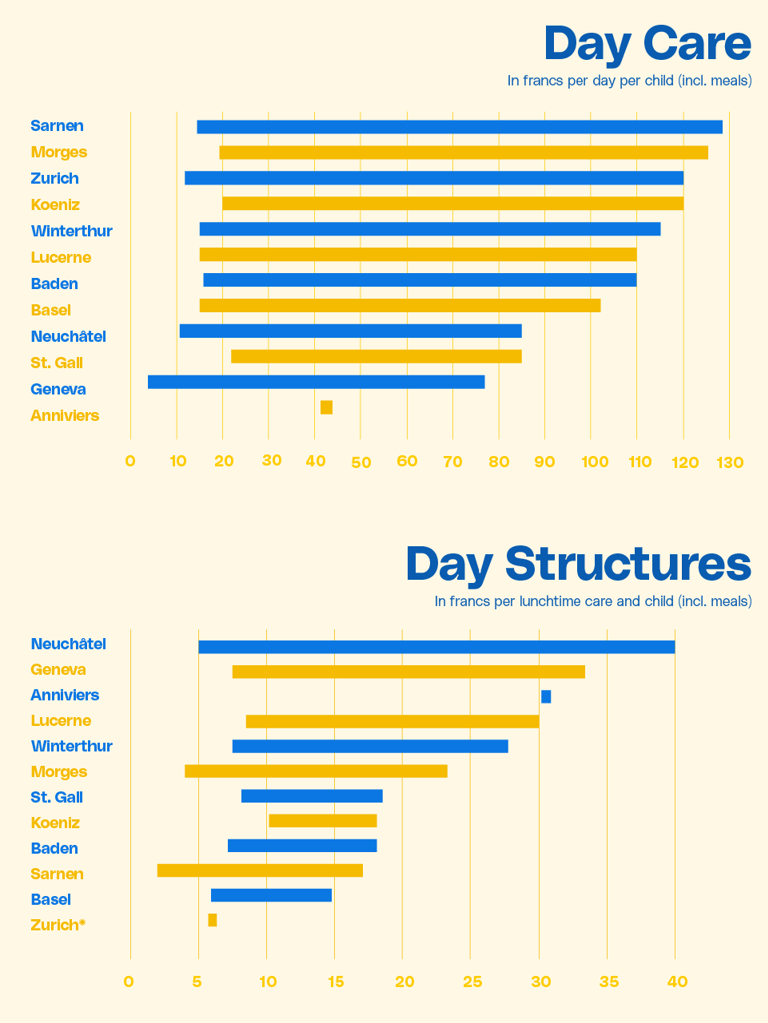 The manpower is missing in the companies
It has dramatic consequences for the national economy, when many working people give up all or part of their employment. An analysis by Dynajobs in collaboration with Angestellte Schweiz shows: By 2025, our country will be lacking 365,000 skilled workers, and by 2035, it will be many more.
Traditionally, companies try to recruit abroad. But workers are also urgently needed at home, and the problem is not limited to Switzerland. It would make more sense to better exploit the potential at home. For example, in the case of workers who have not been employed up to now, or who have only been employed part-time.
Change, but how?
There is no shortage of ideas to combat the malaise. In a motion of June 2021, SP National Councilor Min-Li Marti demands that the cost of childcare outside the family should not exceed 10 percent of a household budget. However, the Federal Council recommends rejecting the proposal.
For Kathrin Bertschy (GLP), daycare centers are simply systemically important. She calls for a national fund into which the federal government, cantons and municipalities would pay a share. These funds should be used to ensure that the parents' share of daycare costs is limited to 30 to 50 francs per child and day of care.
The FCWI also makes a whole series of recommendations for action in its report:
A legal entitlement to a childcare place should be enshrined in law, as should financial aid from the federal government to reduce parental rates.
Childcare costs should be fully deductible from taxes at the federal and cantonal levels.
The size of the family should be taken into account when calculating the rate.
There should be parental leave to supplement maternity and paternity leave.
Daycare places should no longer be rationed.
Of course, the proposals are politically controversial. But there is a need for action, and it is urgent. Parliament and the Federal Council must finally get their act together and work out solutions that can be implemented quickly.