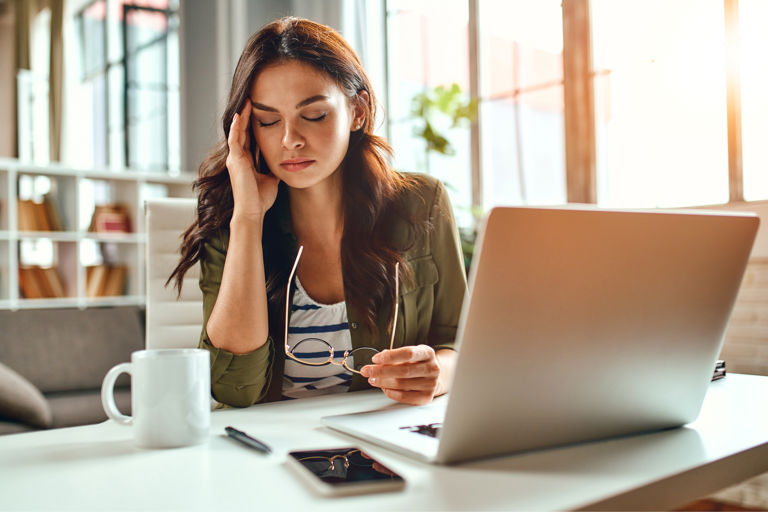 Almost Everyone Is Stressed from Work
More than a quarter of working people in Switzerland are permanently stressed, and just under half are temporarily stressed. This costs us 6.5 billion francs.
According to the Job Stress Index 2022 from Gesundheitsförderung Schweiz (Health Promotion Switzerland), 28.2 percent of employees experience a great deal of stress. 45.4% experience stress at least some of the time – for them, resources and strains are more or less in balance. Only 26.4% have more resources than strains.
Every two years, Health Promotion Switzerland measures how stressed we are at work. Stress is shown by the ratio of resources and strains a person has. The higher the strains in relation to the resources, the higher the stress.
Has the Trend Been Reversed?
Over many years, Health Promotion Switzerland noted an increase in stress. The peak was reached in 2020 with 29.6% of highly stressed professionals. In 2022, this figure fell for the first time.
Health Promotion Switzerland therefore speaks of a "trend towards a minimal improvement in working conditions." However, the change is not significant. Stress in the workplace remains a major problem.
Stress Costs Us Billions
Work-related stress is an expensive luxury. It costs us 6.5 billion francs a year, according to Health Promotion Switzerland. Productivity losses are to blame. They occur because stressed professionals are unable to perform at their full potential. They are absent from work more often due to stress-related illnesses, or they are present but working on the back burner.
At least there has also been a turnaround in terms of stress costs. In 2020, they still amounted to 7.6 billion Swiss francs.
We Need to Do Something about Stress
The slight turnaround in stress at work is no reason to sound the all-clear. We urgently need to do something about it.
This is in the interest of both employees and employers. Without stress, employees work healthier – and companies can increase their productivity with healthy and therefore productive employees.
If the performance potential of employees is better utilized, this also counteracts the shortage of skilled workers. Employers should therefore have a strong interest in keeping stress levels in their companies as low as possible.
Who Must Act?
According to the Swiss Code of Obligations, employers must take the health of their employees into account. Therefore, they must take measures to prevent stress in the workplace. Otherwise, they may be held liable.
However, employees also have an obligation to prevent their own stress. They must talk to their supervisor if they feel stressed at work.
Employees can also prevent stress with measures such as exercise or relaxation techniques. You can find out how to compensate for and prevent stress in the article "What you can Do against stress" (see below).