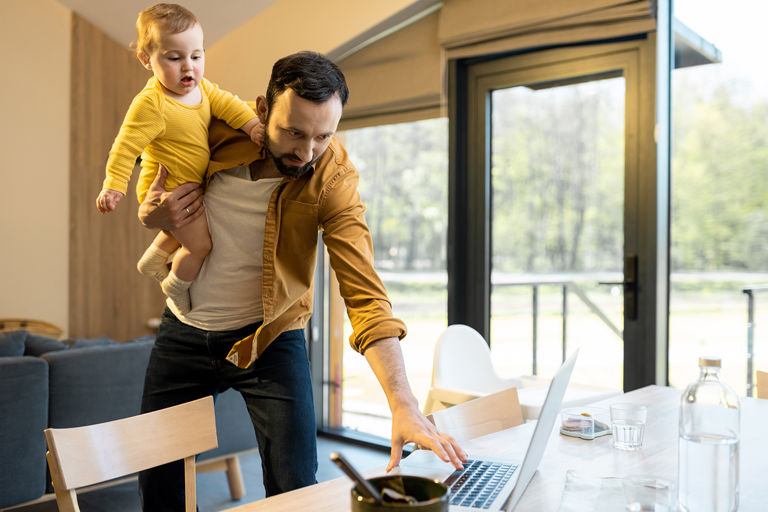 Child Sick – Am I Entitled to Paid Leave?
How many days of paid leave can parents take to care for their children?
Our son Julio (4) has caught another nasty flu at daycare. He is sick for the fourth time this year. I have been alternating between taking care of my husband and Julio. In total, I have missed 9 days of work so far and my husband has missed 8.
Now my boss has informed me that I am only allowed to miss one more day in the current year. The other days would no longer be paid.
I can hardly believe this. Do I really benefit from a maximum of 10 paid care days per year? Since my husband is abroad, I have to do the caregiving all by myself this time.
Clara P.
As of January 1, 2021, employees are entitled to paid leave for caring for an ill family member or partner. The Code of Obligations (CO) provides for a leave of no more than 3 days per event.
If the necessary care lasts longer than 3 days, it is best to split the care. Like Clara and her husband did. This way you get a total of 6 paid days.
Maximum of 10 Days…
Flu is rarely over quickly. Since Clara's husband can't fill in, she will definitely exceed the limit of 10 days mentioned by her boss. The boss refers to a provision in the Swiss Code of Obligations. Article 329h in fact limits the maximum days paid to 10 per year.
This restriction only applies to paid leave to care for dependents.  According to the Labor Law, Clara may take more days off if necessary. Only these are not necessarily paid after the 10-day limit is reached.
…or More…
Despite the restriction in Article 329h, Clara can insist on more than 10 days of paid leave. She can invoke another provision in the Code of Obligations.
Article 324a also grants a right to continued payment of wages in the event of absence from work. Namely, if someone has to fulfill legal obligations. As the mother of a sick child, Clara has this obligation due to her duty of care.
…Depending on Various Factors
The number of days Clara is entitled to according to Article 324a depends on various factors. First of all, the length of service. In the first year of service, employees are entitled to a maximum of 3 weeks of continued salary payment. Thereafter, this depends on the number of years of service and the canton in which one works.  In addition, it also depends on the regulations in the individual companies.
Clara can now clarify how many days of paid leave she is entitled to according to article 324a in her situation. Then she can explain the situation to her boss. In doing so, she can count on the support of the legal service of Employees Switzerland.
Also Important to Know
Good to know for Clara or you if you are in the same situation:
Your employer can ask you for a doctor's certificate for your sick child. This proves that your child is indeed sick and needs care.
As an employee, you are obliged to limit the duration of care to the necessary minimum. If you can organize another person to look after your child, you should do so from a legal point of view.