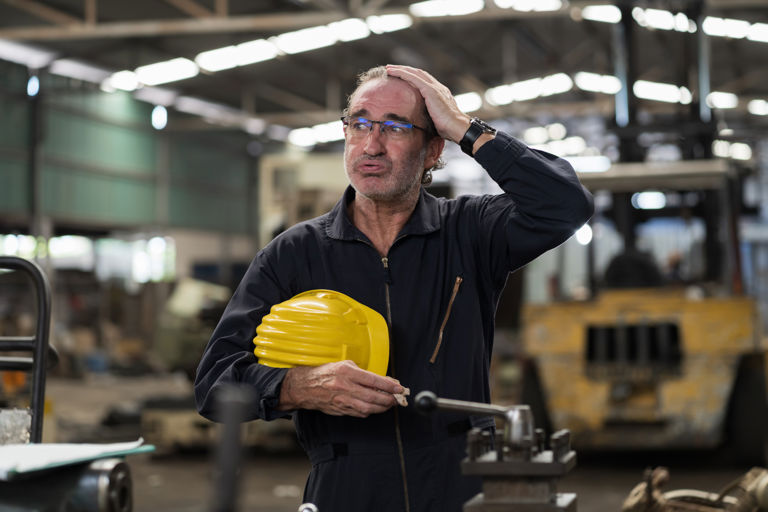 Occupational Diseases – these Are Your Rights
For employees, it is worth clarifying whether an illness is an occupational disease.
I work in the production department of a metalworking company. My workplace is very noisy and dusty and I wear hearing protection.
In the last few months, my hands and arms have been aching because I have to lift heavy workpieces all the time. In the last few weeks it has become almost unbearable.
In addition to the pain, I also have a persistent cough, even though I quit smoking six years ago.
What do you advise me to do? Should I take a sick leave because of the discomfort?
Ali L.
The legal service of Employees Switzerland advises Ali to consult the family doctor immediately. For two reasons: On the one hand, he needs a doctor's certificate so that he does not have to continue working with his pain. On the other hand, it needs to be clarified whether Ali has an occupational disease.
Ali attributes the increasing pain in his hands and arms to the work. The cough could also be an occupational disease due to the dust to which he is exposed.
Occupational Diseases Are (Mainly) Triggered by Work
Occupational diseases are illnesses that are caused exclusively or predominantly by harmful substances or certain types of work. In Ali's case, it must be clarified whether the lifting of heavy workpieces is effectively the trigger for his pain. Dust could be the cause of his cough.
High levels of noise can also cause illness – at 44%, most occupational illnesses affect the ear and hearing. But Ali is fortunately protected against the noise thanks to hearing protection.
Those Affected Profit from Better Benefits
The clarification of an occupational disease is important for Ali because he enjoys special rights in this case. In terms of social insurance, occupational diseases are treated the same as accidents and benefits are provided by accident insurers. Affected persons profit from better benefits than in health insurance.
For example, medical costs are covered without a deductible or excess.
If the assessment shows that the work endangers Ali's health, he also has access to special benefits to help him change jobs. For up to four months, he receives transitional daily allowances that cover 80% of his insured earnings. To give him enough time to retrain, he can then receive transitional allowances for up to 4 years.
Causation by Work Decides on Recognition as an Occupational Disease
The examining bodies decide whether an occupational disease exists on the basis of a list of harmful substances and diseases. In Ali's case, these could be tendinitis caused by lifting and pneumoconiosis caused by metal dust.
The Federal Court has determined that a condition is considered an occupational disease according to this list if it is more than 50% caused by work. For other occupational diseases not listed, 75% is required.
In view of the prospect of being able to work again without pain, the clarification of an occupational disease is definitely worthwhile for Ali!