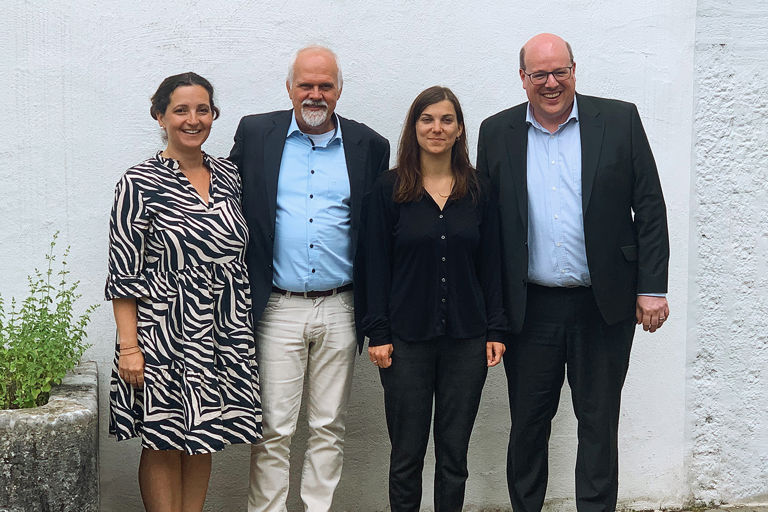 Employees Switzerland Strengthens Competence on the Board
Sara Zanardi and Daniel Siegrist were newly elected to the Board of Directors at the 2023 Delegates' Meeting. They help to move Employees Switzerland forward.
On June 16, the delegates of Employees Switzerland met in Solothurn for the annual assembly. The venue "Old Hospital" was quite appropriate, as the president of Employees Switzerland, Alexander Bélaz, explained in his welcoming speech. Indeed, the problem of declining membership needs treatment.
Representative of the Young: Sara Zanardi
At 27, Sara Zanardi knows exactly what moves generations Y and Z and what they expect from an employee organization. She is pleased to now be able to bring this knowledge to the organization as a new board member.
Sara studied environmental sciences at the University of Padua and works as an environmental engineer at DSM in Valais. She is therefore very familiar with the topic of sustainability, which is so close to the hearts of young people and Employees Switzerland.
Broad Experience and Deep Know-how: Daniel Siegrist
"I'm more interested in the future than the past," Daniel Siegrist explained after his election. After recently handing over the management of Coop Rechtsschutz, he wants to work hard for a successful future of Employees Switzerland.
Daniel Siegrist can draw on a wealth of experience. As a creative person, he will find original solutions for the challenges of Employees Switzerland. Daniel Siegrist has known the association for a long time; Coop Rechtsschutz is our partner in providing legal advice to members.
Urs Meienhofer Bid Farewell with Applause
Urs Meienhofer from the member organization FEME served on the board for eight years. In his eulogy, fellow board member Bruce Nyfeler noted that even in turbulent times he had always maintained a confident overview. The delegates bid farewell to Urs Meienhofer with a big round of applause.
Employees Switzerland Keeps on the Move
Many measures to attract new and younger members have already been implemented or initiated. For example, the brand positioning and the new, clearer and more user-friendly website.
Finally, Alexander Bélaz gave an outlook on further exciting projects:
We are expanding our health app "Etwas tun?!" to include an "Emotions" module.
We are moving towards more interactivity and metaverse.
We are expanding competencies in the topics of NFT and Web 3.0.
We have launched an exciting project on the topic of sustainability.
After Decisions Were Made, People Had a Laugh
After lunch in the garden on the Aare, decision architect Reto Blum took the delegates on a "journey to our decision-making patterns". With the help of various small decision-making exercises, he showed the astonished audience that we do not decide as rationally as we like to believe.
To round off the delegates' meeting, Frank Cabrera Hernandez, alias comedian Kiko, made the hall laugh.